Paper cascade bouquet – beautiful and stylish wedding accessory, which can perfectly emphasize the sophisticated image of the bride. I have made paper flower bouquets since 2012, and have big experience. Read the post and get inspired by my creations!
Paper cascade bouquet – what's this?
A cascade bouquet is a composition in which the collected flowers elegantly fall, look like the shape of a waterfall. Most of the flowers are concentrated in the upper part of the composition.
For the first time, the brides began to complement their look with a cascading bouquet in the early 20th century. Then it disappeared from the hands of brides for a long time and began quickly gaining popularity since 2014.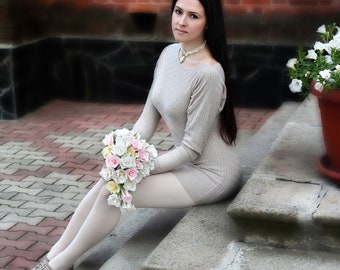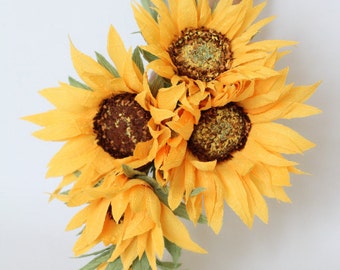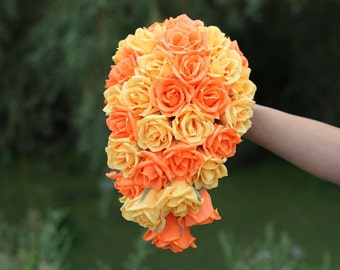 Paper cascade bouquet better suits 
This bouquet better suits for medium and tall brides to create a vibrant look. It should be noted for miniature girls better to choose a different floral arrangement, for example – a classic round.
Interesting: Princess of Monaco Charlene preferred a cascading bouquet to other compositions.
Cascading bouquets are harmoniously combined with long dresses of a straight or slightly flared silhouette to the bottom and dress with a train.
A cascading composition is used as a bright accent, so it is advisable to avoid massive jewelry.
 How much does a paper cascade bouquet cost?
For example, crepe paper sunflowers cascade bouquet – $65, on the other hand, a bouquet of near 30 paper roses – $85. I can customize bouquet for you and make some mix, as well as that it could be made from book page roses, and even using brooches. 
Take a look at the paper roses cascade wedding package example.
WEDDING PACKAGE EXAMPLE
17 pieces for just $290 (free shipping):
Bride bouquet – cascade bouquet

of near 33 crepe paper roses

;
Maid of Honor bouquet – round bouquet consist of 15 middlesize roses;
4 pcs – round bridesmaids bouquets – 10 middlesize roses in each;
Toss bouquet – round bouquet of 10 middlesize roses;
2 pcs – Mother's corsages (pin or wrist) – one rose in each;
Groom's boutonniere (little different from others) – one rose;
7 pcs – Boutonnieres – one rose.
Interested in cascade wedding package? Contact me for a consult!
Wedding bouquet colors scheme
The color scheme depends on the season and the color scheme of the celebration. Bouquets of bright shades of red or indigo look spectacular In winter. In autumn – compositions in orange-burgundy, in spring – snow-white, pale pink and peach with lots of greenery, and in summer – compositions with flowers of bright colors.
Read also colors meaning for roses bouquets.
Better, if the bride holds cascading composition straight with both hands at waist level or slightly lower.
This is example of a paper sunflower cascading bouquet consist of 5 sunflowers (3 more blossoms (near 6-8 inches), 2 less blossoms (3-5 inches), handle decorated with ribbon). Awesome accessory for Summer wedding, moreover rustic wedding theme.